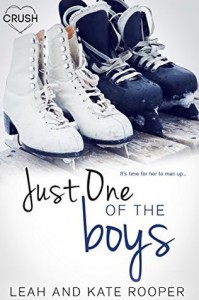 First things first: I received this book through NetGalley.
This book was everything I wanted it to be!!!!

Summary: Alice Bell has one goal: to play for the elite junior hockey team the Chicago Falcons.But when she's passed over at tryouts for being a girl, she'll do anything to make her dream a reality...even disguising herself as her twin brother. With her amazing skills on the ice, Alice is sure she'll fit in easily. That is, until she starts falling for one of her teammates...
Hayden Tremblay, star of the Falcons, can't keep himself out of the penalty box. Constantly living in the shadow of his older brother, Hayden's losing his passion for hockey. But when he gets shown up on the ice by the Falcons' new rookie, Hayden's determined to teach the kid a thing or two. Little does he guess that "Al's" surprises on the ice are just the beginning...
The book sucked me in right from the stars. A kick ass girl, who outplays lots of dude on the ice during tryouts and makes the team. Only, that she takes of her helmet and people realize that she's a girl and not a dude. GASP!!!! SCANDAL!!!! A GIRL. ON THE ICE. PLAYING HOCKEY. WHAT?????? So, of course. The only logical thing to do as a coach that just welcomend her on the team, is to make her understand he made a mistake and actually meant her twin brother. Who, well...sucked during the tryouts. SHOCKING, a dude who played mediocre got the place instead of a girl who played amazing. I could go on and on about this but I will stop right here...
Back to the story. Xander, Alice's twin brother actually breaks his leg. And Alice is ready to take his place on the team, acting like she's him. YES PLEASE!!!!!
Twin story: check.
Giving me She's The Man feels: CHECK!!!!
I loved the main characters.
Alice, I loved Alice so much. I loved her as Alice, I loved her as Al. She was amazing.
Hayden. Let's be real about him for a second here, I didn't like this dude at all in the beginning. He was just a mean jerk, who I couldn't care less about. Towards the middle it changed. He got more backstory and NO, the tragic things in his past didn't excuse anything, but towards the middle, he became a actual human being for me that I cared for. He was still a jerk from time to time.
Loved the minor characters.
Xander. Man, I loved him in the beginning, hated him in the middle and loved him again in the end. There is a lot going on for him in the story, once again that's no excuse for how he handles some of the things, but still, towards the end he really stole my heart again.
Madison. She showed up and I loved her. She was super supportive, she was just such a great friend to Alice. Ugh. She was amazing.
I got annoyed with the characters a lot of times, they made terrible decisions, the said a lot of awful things to each other. BUT I LOVED THEM.
I loved the story. I loved the writing.
I highly recommend this book.